Barbara Buser, Daniel Stockhammer, Catherine De Wolf, Anna Buser (eds.)
Reusing interlocking concrete blocks
An example of circular economy
Book design: Wessinger und Peng, Stuttgart
German / English, ca. 128 pages, ca. 120 images,
14 × 20 cm, softcover
Euro [D] 39.–, Euro [A] 40.–
Pre-order. Release date: June 2023
ISBN 978-3-03863-076-0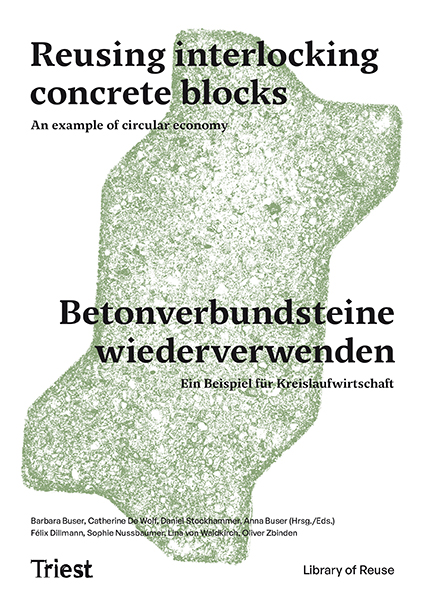 • Guidelines for recycling and reusing building materials and components in architecture, exemplified with interlocking concrete blocks
• With practical tips for building with reused components
• Interviews with representatives of the construction industry showing where there is hidden potential to bring about lasting change
• First volume of the "Library of Reuse" series

We are all aware of the need for resource-saving  construction. However, there are hardly any standardized procedures for how we can achieve this and, above all, how this is to be implemented in practice. The construction industry in particular is geared towards recycling building materials, but not towards reusing components and elements that have already been used before. This requires careful dismantling, removal, storage and reinstallation, which is still not reflected in common practice, nor in the standards and regulations.
In order to implement the idea of circular construction, knowledge of how the material can be identified, removed, stored and reused is needed – which goes hand in hand with new approaches in architecture. The "Library of Reuse" imparts this knowledge.
The first volume,
Reusing interlocking concrete blocks
, explains the possibilities of reusing this building material, which was originally used as paving stones on private properties, footpaths and cycle paths, parking lots and driveways. These areas are always in need of redevelopment or renovation. The stones are dismantled and used as aggregate for recycled concrete or disposed of as construction waste.
Based on an analysis of the concrete block's material properties, the book shows possibilities for its further use. What questions and difficulties arise in the course of planning and implementation? Where are the pitfalls and which actors need to be on board? How do you design such a project and the associated construction process? Analyses and a project realized with the building material provide answers to these questions. The project, whose execution planning and implementation is clearly documented, is supplemented by manufacturer and producer interviews.
---
About the author:
Editors:
Anna Buser is an ethnologist who has completed further training in the field of urban development. She works at ETH Zurich and at sumami, combining research and practice.
Barbara Buser
is an architect who has been dealing with reuse in construction for 30 years. She is convinced that reuse is only successful if knowledge about it is made widely available, which is why she initiated the Library of Reuse.
Daniel Stockhammer
is Professor of Built Heritage & Circular Design at the University of Liechtenstein and teaches the Upcycling Design Studio.
Catherine De Wolf is Assistant Professor of Circular Engineering for Architecture at ETH Zurich, where her team researches how digital innovations can promote a circularly built environment.
Authors:
Félix Dillmann, Sophie Nussbaumer, Lina von Waldkirch, Oliver Zbinden
---
These books may interest you too: