Ladina Ingold, Katharina Scheller
New Graphic Standard
Ratgeber zur umweltbewussten Gestaltung und Produktion von Druckerzeugnissen
German, ca. 180 pages, 14,5 × 22 cm, thread-stitched softcover
ca. Euro (D) 39.—, Euro (A) 40.—
Pre-order. Release date: Spring 2024
ISBN 978-3-03863-081-4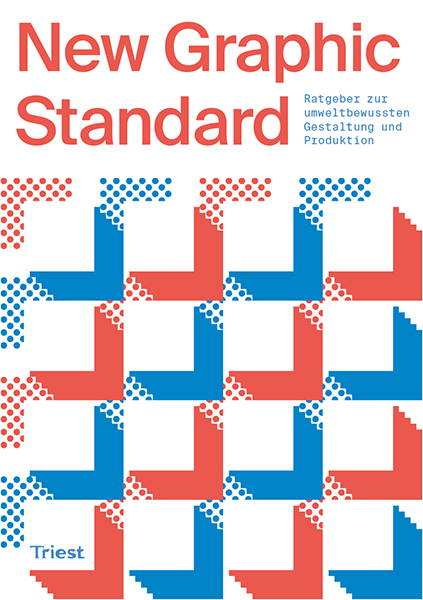 – A new standard for print and communication media is needed for the appreciation and contemporary handling of raw materials.

– The guide closes knowledge gaps and shows alternatives in the printing process

– Handbook for agencies, design studios; teaching material for the graphic arts industry

The guidebook for sustainable design and production highlights environmentally compatible printing processes, resource-saving paper production and optimized material consumption as well as basic theories and concepts of environmentally conscious design. It provides tangible information and practical instructions for everyday use and the contemporary handling of resources.
New Graphic Standard highlights problems and solutions in the field of communication design regarding the use of materials that are used in the course of a printing process.
It is intended to serve as a handbook for agencies, design studios, but also as a teaching aid in education - knowledge transfer and sensitization in the field of resource-saving print production has not taken place in the industry so far.
 
There is a lack of appreciation and awareness for an ecological approach to print products. However, the consumption of resources is in many cases determined by designers in this industry. They shape and "inform" the material in order to produce a communication medium or commercial good from it. What counts in the end is what information reaches the consumer. But the properties, origin and potential of the (advertising) material are often not taken into account and printed products are used today in often the same design and short-lived form.

Most of the time, time or money constraints limit the choice of materials and the cheapest variant or the fastest print version wins out - resulting in a monotonous and environmentally damaging product. How can the monotony of print products be overcome? And how can an appreciation for the material and thus for the raw material in graphic design be created?
 
The guidebook aims to look at the manufacturing process of a print product in its entirety and to show how it is possible to take a closer look and assume responsibility in a targeted way. On the one hand, it uncovers problems and questions processes, but it also offers new approaches that can help graphic designers, printers, paper manufacturers and all other people involved in the industry in their daily work. With the help of facts, examples and guest contributions, environmentally friendly printing processes, resource-saving paper production and optimized material consumption as well as basic theories and concepts of environmentally conscious design are highlighted. In this way, a work is to be created that promotes a new awareness and makes a new standard possible.
---
About the Authors
Ladina Ingold studierte Visuelle Kommunikation (BA), Integrative Design (MA) an der HGK, Basel sowie zwei Semester Eco-Social Design an der Uni BZ, Bozen. Ihr Interesse gilt zukunftsfähigem Design, welches Verantwortung übernimmt. Als Grafikerin bedeutet das für sie, den Lebenszyklus eines Printprodukts in seiner Gesamtheit zu betrachten. Nebenbei experimentiert und forscht sie an einem Druckverfahren, welches organisches Restmaterial zu Pigmenten und Prints verwertet.

Katharina Scheller ist selbstständige Kommunikationsdesignerin, Dozentin und Designforscherin. Sie hat einen BA in Visueller Kommunikation an der Hochschule für Gestaltung Basel und einen MA in Design Research an der Hochschule der Künste Bern. Als Kommunikationsdesignerin konzipiert und gestaltet sie in den Bereichen Wissensvermittlung, Informationsdesign, Buch- und Ausstellungsgestaltung. Innerhalb ihrer Forschungstätigkeit beschäftigt sich Katharina Scheller mit der visuellen Wissensvermittlung von ökologischen Themen.